SPACE WEATHER SOFTWARE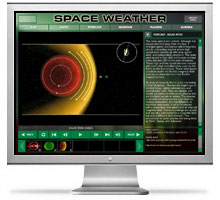 This is an educational product produced by NASA's MMS and IMAGE programs with support from the NSF Center for Integrated Space Weather Modeling and ESA Cluster Mission. It can be used on both Windows OS and Mac OSX systems. Additional minor updates have been supported by NASA/Heat.
It contains an educational Space Weather application from Space Update, Inc. (runs on both Mac and Windows) that displays movies and images of the aurora and of the Sun in various wavelengths from the ground and from orbiting NASA spacecraft; a tutorial about what space weather is and how the aurora is formed; and much more! You'll also find real-time space weather conditions from current satellite missions and can download the latest data from our servers without leaving the application. A TicTacToe game is also included that tests space weather knowledge.
It brings you many other Space Weather resources, programs, sounds, and games for use at home or school, and there are several educational websites included for offline viewing. In addition there is an exhaustive list of links to a variety of space weather resources available online.
It also includes material in Spanish, including the Space Weather module and other resources.
README

HOW TO GET IT
Use the following links to download from spaceupdate.com.
Thanks to NASA support, the Space Weather software is FREE. Please REGISTER the software to get a key to use it beyond the 30-day demo.
NOTE: Support for MacOS ends with MacOS 10.14 "Mojave"
MacOS 10.15+ users should contact support@spaceupdate.com for info on 64bit versions of our software.
SPACE WEATHER RESOURCES